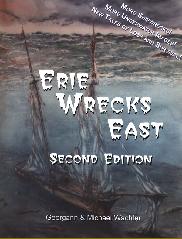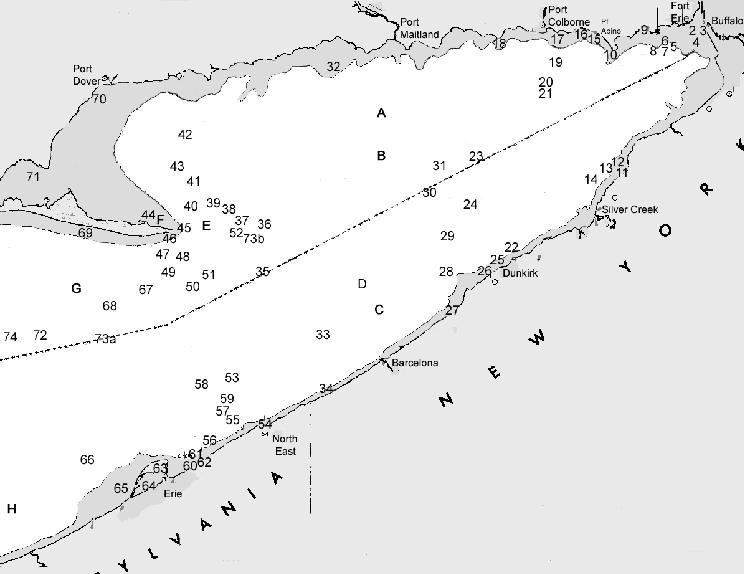 Included in this volume:
Click Image for larger map.
Abyssinia
Acme Propeller
Acme Tug
Alabama
Andrew B
Arches
Philip D. Armour
Atlantic
Aycliffe Hall
Barge 43
C.B. Benson
Bishop's Derrick
John J. Boland, Jr. #1
Briton
Brown Brothers Tug
Brunswick
Canobie
Carlingford
Carol Sue II
Gulnair
Charles B. Hill
Indiana
Washington Irving
Isolde
James F. Joy
Junction 20
Killarney
C.B. Lockwood
John B Lyon
Majestic
Manzanilla
Marengo
Marquette & Bessemer No. 2
S. K. Martin
J.G. McGrath
Michigan Transport Barge #3 & #4

Mud Wreck
Nimrod
Oneida Louie O'Neill
Ontario
S. S. Osborn
Oxford
Passaic
Persian
Raleigh
James Reed
W. C. Richardson
Dean Richmond
Saint James
Seventeen Fathom Wreck
Siberia
Smith
Steel Products

Experience the thrill of exploring 103 Lake Erie shipwrecks. For each shipwreck, this book provides the facts of the loss, A photo of the ship before it sank, the history of the vessel, a description of the wreck today, essential information on the ship, and the location of the wreck in LORAN and GPS. Drawings, photos and copies of news articles about the loss provide a moving first hand insight to Lake Erie's lost fleet.
Details of 103 Lake Erie Shipwrecks
Cecil J
O. W. Cheney
Chesapeake
Cisco
City of Rome
Henry Clay
Cracker
Crete
Dacotah
Dawn
Dixie
Neil H. Dow
Drilling Rig
Elderado
C.W. Elphicke
Erie
Charles Foster
Howard S. Gerkin
Golden Fleece

Stern Castle
William H. Stevens
Swallow
T-8
Tonawanda
Trade Wind
U.S. 104
Walk-in-the-Water
Wild Rover
Hunter Willis
Wilma
Annabell Wilson
Wonder


United States:
Canada: