Lighthouses, shipwrecks, & Great Storms
Shipwrecks, Lighthouses, great storm stories! This book has it all. Explore the history and legends of Lake Erie's Lighthouses and take a fascinating look at the shipwrecks of Erie's greatest storms. Get an in depth look at shipwrecks located since the publication of the seminal works on Lake Erie shipwrecks, Erie Wrecks West and Erie Wrecks East.
Ashtabula
Barcelona
Buffalo Main
Cedar Point
Old Cleveland Main
Cleveland Pierhead
Conneaut
Dunkirk
Erie Land
Erie Pierhead
Erie Presque Isle
Old Fairport
Fairport West Breakwater
Long Point
Lorain
Marblehead
Mohawk Island
Pelee Island
Point Abino
Point Burwell
Port Colborne
Port Dover
Port Maitland
Port Stanley
Rondeau West Breakwall
South Bass Island
Southeast Shoal
Toledo Harbor
Vermilion
West Sister Island
E.S. Adams
The Admiralty Wreck
Algerine (aka Algerian)
Barcelona Shipwreck
John J. Barlum
Bradstreetís Disaster
Brig C
J.J. Carroll
Caterpillars
Chicago Board of Trade
Cleveland Crib Number Five
Commodore
Constitution
L.B. Crocker
CSU Wreck
Custodian
Detroiter
Esco #2
Gold Coast Tug
Hammermill Wreck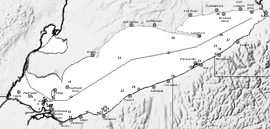 38 New Shipwrecks
30 Lighthouses
5 Historic Storms:
The October 14 Storm of 1886
The W.R. Hanna
The O.M. Bond
The George M. Case
The Nevada
The Belle Mitchell
Black Friday
The Marshall F. Butters
The D.L. Filer
The Merida
The James B. Colgate
The October 19 & 20 Storm of 1905
The Tasmania
The Wisconsin
The Sarah E. Sheldon
The Kingfisher
The F. H. Prince
The Yukon
The Mautenee and Noguebay
The Siberia
Click Image for larger map.
The December 8 Storm of 1909
The Clarion
The W.C. Richardson
The Charles Spademan
The Marquette and Bessemer No.2
A Tormented Lake in October 1893
The Dean Richmond
The Wocoken
The Riverside
The C.B. Benson
International
King Coal
Lakewood Tug
Maitland No.1 Railcars
Mautenee
M.F. Merick
Belle Mitchell
Ogdensburg
Patapsco
Theodore Perry
C.H. Plummer
Red Bird
Rob Roy
W.R. Stafford
Sugar Barge
Vermilion Small Barge
George J. Whelan
Wisconsin

United States:
Canada: