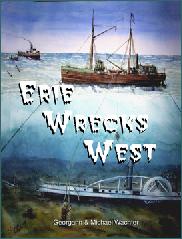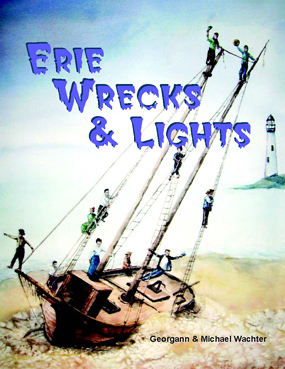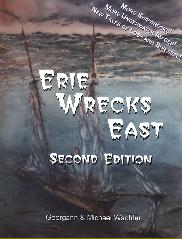 We are the publishers of
Erie Wrecks East,
Erie Wrecks West. and
Erie Wrecks & Lights

Each book provides:
§ Survivors tales of the loss
§ Essential facts about the
ship
§ The history of the vessel
and its loss
§ A picture of the ship before
it sank
§ Description of the wreck
today
§ Underwater photographs
§ Sidescan sonar images
§ Drawings of the wreck
§ Loran and GPS numbers
Order All Three Books for $60.00:
Erie Wrecks East, 2nd Ed.
Erie Wrecks West
Erie Wrecks & Lights
The
photographer links
page provides fabulous underwater images of Great Lakes shipwrecks.

Our goal:
To share the rich maritime history in the depths of Lake Erie and encourage recreational diving.

Shipwreck Locations:
To encourage recreational diving and dive tourism, we usually publish the locations of the shipwrecks we find. The only exceptions to this are when the ship has an artifact on it that needs to be documented before providing public access, and when the person who told us of the wreck wants it kept secret.
Our Newest Program Offerings
We have added two exciting programs to our program offerings
Operation Hailstone: The Shipwrecks of Truk Lagoon
and
Tragic Losses: The SS Edmund Fitzgerald, SS Eastland, & RMS Lucitania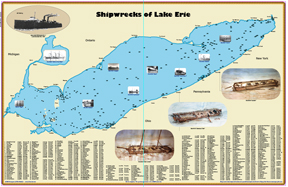 $25 includes free shipping!in the USA.
Add $10.00 shipping to Canada
United States:
Canada:
Shipwreck Chart wth GPS coordinates

Call or email for more information.
On the Fourth of July a new Republic was located not in Philadelphia but off Lorain, Ohio. Mike and Georgann Wachter authors of the Erie Wrecks series of Lake Erie shipwreck books, located a shipwreck they believe may be the schooner barge Republic that was lost July 30th 1895.
The approximately 140 foot vessel has a massive windlass two anchors and is rather pointed at the stern. The Republic carried coal and was under tow of the steam barge Swallow when heavy weather opened the 40 year old Republic's seams, and she foundered near Lorain. The tug Cascade answered the Swallow's call for assistance and rescued 8 men who were clinging to the masts of the sunken schooner. The Wachter's believe that the vessel was dynamited by the government, as the three master was considered a hazard to navigation. In fact one article from the Marine Record indicated if the destruction of the Republic was announced in advance, there would be excursions to watch the blasts.
This is the 35th wreck that has been located by the Wachters. Mike Wachter tells us, "We also located a new wreck last season near Kelleys Island that we finally dove in 2016."
Our Latest Shipwreck Find

Temporarily Out of Stock
New Improved version with more shipwreck locationscoming soon