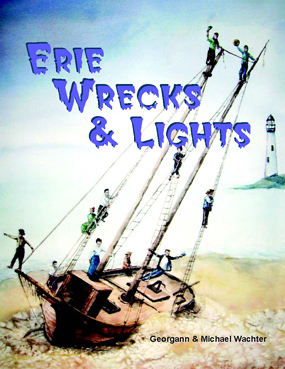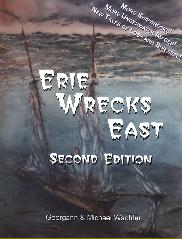 We are the publishers of
Erie Wrecks East,
Erie Wrecks West. and
Erie Wrecks & Lights

Each book provides:
§ Survivors tales of the loss
§ Essential facts about the
ship
§ The history of the vessel
and its loss
§ A picture of the ship before
it sank
§ Description of the wreck
today
§ Underwater photographs
§ Sidescan sonar images
§ Drawings of the wreck
§ Loran and GPS numbers

Our goal:
To share the rich maritime history in the depths of Lake Erie and encourage recreational diving.

Shipwreck Locations:
To encourage recreational diving and dive tourism, we usually publish the locations of the shipwrecks we find. The only exceptions to this are when the ship has an artifact on it that needs to be documented before providing public access, and when the person who told us of the wreck wants it kept secret.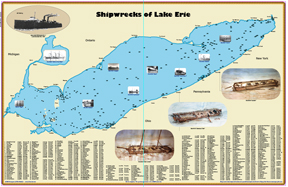 Available only as a PDF
Updated Chart wth 305 Lake Erie Shipwreck locations
We have elected not to do a print version of the updated shipwreck chart. We have it available in a 24' x 36" PDF which you can have printed at your local print shop.
Price: $15. Your order will be fullfilled by email.
Erie Wrecks West is now back in stock. Buy all three books for $60.00
New Printing of Erie Wrecks West now available

We are excited to announce a new printing of the bestselling Erie Wrecks West. The new book includes the same 103 western Lake Erie shipwrecks but with more than twenty new photos or sidescan images, six new or updated GPS locations and two new shipwreck identifications.

Ship to USA:
Ship to Canada: