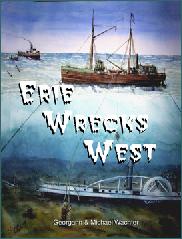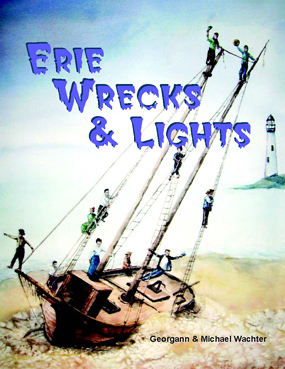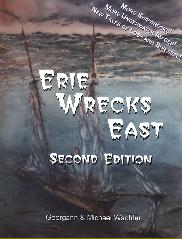 We are the publishers of
Erie Wrecks East,
Erie Wrecks West. and
Erie Wrecks & Lights

Each book provides:
§ Survivors tales of the loss
§ Essential facts about the
ship
§ The history of the vessel
and its loss
§ A picture of the ship before
it sank
§ Description of the wreck
today
§ Underwater photographs
§ Sidescan sonar images
§ Drawings of the wreck
§ Loran and GPS numbers
Order All Three Books for $60.00:
Erie Wrecks East, 2nd Ed.
Erie Wrecks West
Erie Wrecks & Lights
The
photographer links
page provides fabulous underwater images of Great Lakes shipwrecks.

Our goal:
To share the rich maritime history in the depths of Lake Erie and encourage recreational diving.

Shipwreck Locations:
To encourage recreational diving and dive tourism, we usually publish the locations of the shipwrecks we find. The only exceptions to this are when the ship has an artifact on it that needs to be documented before providing public access, and when the person who told us of the wreck wants it kept secret.
Lake Erie Shipwreck Chart now available!.
We are pleased to announce that our 36" x 24" laminated l"Shipwrecks of Lake Erie" chart is now available.

This artistic chart provides accurate GPS locations, paintings of three vessels as they sit today and images of several ships before they sank.

Makes a GREAT wall hanging and even better Gift!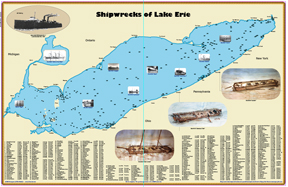 $25 includes free shipping!in the USA.
Add $10.00 shipping to Canada
United States:
Canada:
Canada:
United States: