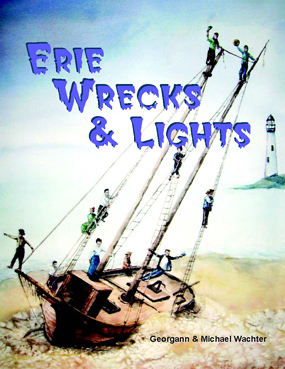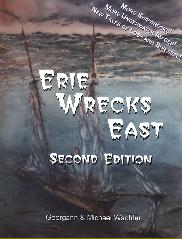 We are the publishers of
Erie Wrecks East,
Erie Wrecks West. and
Erie Wrecks & Lights

Each book provides:
§ Survivors tales of the loss
§ Essential facts about the
ship
§ The history of the vessel
and its loss
§ A picture of the ship before
it sank
§ Description of the wreck
today
§ Underwater photographs
§ Sidescan sonar images
§ Drawings of the wreck
§ Loran and GPS numbers

Our goal:
To share the rich maritime history in the depths of Lake Erie and encourage recreational diving.

Shipwreck Locations:
To encourage recreational diving and dive tourism, we usually publish the locations of the shipwrecks we find. The only exceptions to this are when the ship has an artifact on it that needs to be documented before providing public access, and when the person who told us of the wreck wants it kept secret.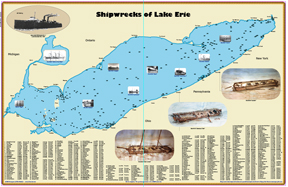 Available only as a PDF
Updated Chart wth 305 Lake Erie Shipwreck locations
We have elected not to do a print version of the updated shipwreck chart. We have it available in a 24' x 36" PDF which you can have printed at your local print shop.
Price: $15. Your order will be fullfilled by email.
Erie Wrecks West is now back in stock. Buy all three books for $60.00
2017 Shipwreck Finds

In June of 2017 we visited Leamington, Ontario. A friend told us about a structure that some ice fishermen claimed to have seen south of Sturgeon Creek on the west side of Point Pelee. We started looking in about 20 feet of water, near the ice fisherman's home. After a short search we located what we now call the Sturgeon Creek Barge. Unfortunately, the visibility was such that we have not measured the wreckage which appears to be over 40 feet long.

Using some Coast Survey information, we converted some numbers and located a wreck near one of the buoys marking the entrance to Maumee Bay at Toledo. This wreckage is only about 10 to 15 feet deep so any deep draft vessel straying outside the channel could potentially hit the wreckage.

Again in June as we traveled south on the Maumee River a wreck about 80 feet long appeared as we traversed a shallow area on the way to Maumee River Yacht Club. This wreck is in about 8 feet of water.

We located some wreckage in August 2017 in 25 feet of water at a wreck mark in the North Bay of Kelleys Island.

While searching a wreck mark in September off Ashtabula, Ohio a wreck site was located.

In October we searched Sandusky Bay for some derelict ships. In 10 feet of water there is a large wreck off of Shelby Street and another possible wreck off of the coal dock, but since there was activity at the dock we have yet to confirm this site.

Most of these sites are either boneyards in Sandusky Bay or the Maumee River but we will explore them next year to see what information and stories they may have.

Ship to USA:
Ship to Canada: